Nov. 14
No Wine Day
Nov. 15
It was a very cold day.
Today, I cooked a Kimuchi-Nabe (hotpot).
I accidentally forgot to take a picture of the nabe.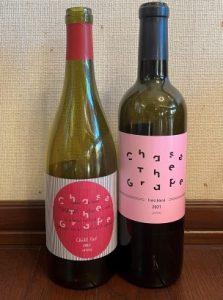 1st Chase the Grape Field Blend 2021  2,800 yen
It is produced from mainly in Koshu, Muscat Bailey-A and a small amount of Chardonnay after two days of fermentation.
It is the so-called Orange Wine.
Compared to immediately after release, the pink color is darker.
I felt nice fruits flavor with a strong sense of transparency, acid that stretches beautifully, and a pleasant minerality.
Not only the color, but also the body seems to be getting bigger.
It has a solid drinking feel that does not seem to be a low alcohol wine with an alcohol content of 8%.
It didn't lose to today's Kimuchi Nabe.
2nd Chase the Grape Chill Red 2022  2,800 yen
Chase the Grape's fourth vintage, released last month, is the first red wine in the series.
Muscat Bailey A harvested in Katsunuma, is blended with Merlot harvested in Manriki and a small amount of minor white grapes called Zala Gyongye from Yamanashi.
It is fermented with wild yeast and then aged in oak barrels.
I felt gentle but strong fruits, mellow tannins, and a fluffy and pleasant mouthfeel.
It has a so-called Bio-Wine taste. I think it's delicious.
This also went well with the Kimuchi Nabe.