Nov. 13
Today, it's Temaki-Sushi, a hand-rolled sushi.
I prepared Chidai caught in my local Sagami Bay.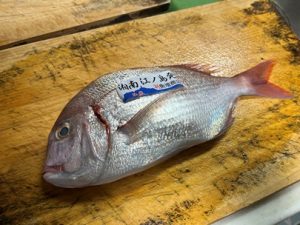 In addition, Aji and Kanpachi are from Sagami Bay.
Raw salmon Ikura is my homemade.
Raw bigeye tuna, raw tuna sukimi, sweet shrimp, raw oysters, raw whitebait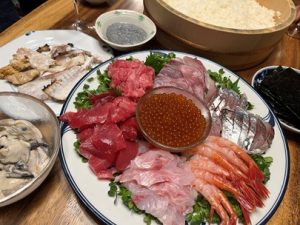 This was enough for 4 people, too much enough?
The wine today, we had three samples of new products from Oriol Rossell in Penedes, Spain, which also served as a tasting.
All of them are white wines made from grapes grown organically in the estate vineyards.
All of them were wonderful wine with pure fruit and pronounced minerality.
Since it is a wax cap, it is probably sulfite-free, or even if it is used, it will be in a very small amount.
Eau de Pao
100% Xarel-Lo. Elegant fruity taste.
L'Enriqueta Macabeu
100% Macaboo. The perky acid unique to the variety pops.
Valentino Xarel-Lo Brisat
100% Xarel-Lo Orange Wine.
In Catalonia, there have been a wine called Brisat, which is made from white grapes making with a maceration method.
It's the original orange wine, isn't it?
I felt gentle and plump fruits flavor, mild acidity, and elegant astringency.
This is a delicious orange wine.
All three were very delicious and were perfect for hand-rolled sushi.
I haven't received a price offer yet, but I'd like to buy the orange wine in particular.
But is it still expensive?