Jun. 22
I went to Yokohama to join in a business meeting.
I was very busy recently.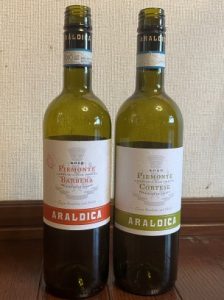 1st Araldica Piemonte Cortese 2020  1120 yen
It is made from 100% Cortese grown in Piemonte by the SQNPI sustainable method.
I like the pure, fresh and clean taste very much.
It is a really fruity-elegant wine.
I like this white wine very much.
2nd Araldica Piemonte Barbera 2019  1120 yen
I often taste this red wine at home.
I like this grape variety because it has very good red fruits and clear acidity.
The style is very pure, natural and elegant.
Every Araldica wine has got the certification of SQNPI sustainable wine from 2019 vintage.
Very good!