Sep. 11
The Cabernet Sauvignon in my garden are colored perfectly.
The size of clusters are very big because of a lot of rain.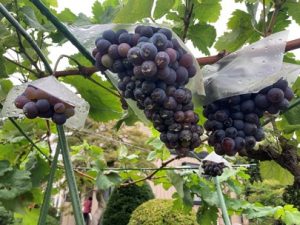 They look like a table grape.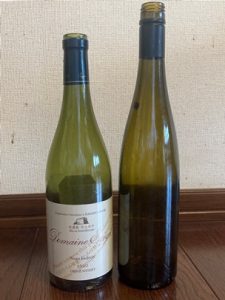 1st Domaine Sogga Nom Indecis 2020
It is made from 62% Sauvignon Blanc, 28% Petit Manseng and 10% Riesling grown in the estate vineyard of Obuse Winery in Nagano.
"Nom Indecis" means "The name is not fixed."
Because the blend of grape variety is not popular, the winery couldn't name this one well.
The taste is the typical character of Obuse Winery.
I felt very fine citrus and minerals from Sauvignon Blanc, very rich fruits form Petit Manseng and some elegance from Riesling.
It is a fabulous white wine.
The price is the middle of 2000 yen range.
It is a miracle reasonable price, I think.
2nd Mysterious red wine
I got this shadowy red wine from some secret root.
It is probably made in Yamanashi from mainly Muscat Bailey-A.
It is probably matured over 5 years.
It is probably made by non-sulfur.
At first, I felt some off-flavors, Volatile Acid, Brettanomyces, etc.
However, I also felt good fruits and charming acidity.
Initially, I thought I could not drink the whole bottle because some character was very strong.
But, gradually, It grew on me.
Finally, I drank up the whole bottle.
I found some off-flavor is better than the additives.