Sep. 6
It was the second day of my business trip in Hokkaido.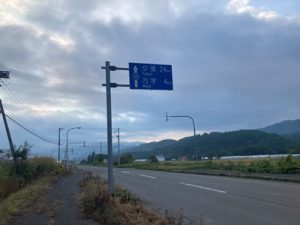 I waked up at 5:30 am and went for a 3 km run.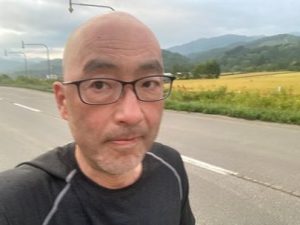 It was a very nice running.
Then we visited to wineries in Yoichi.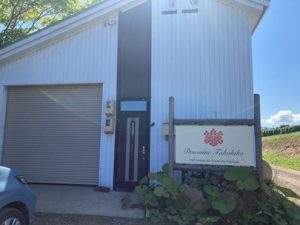 We went to Domaine Takahiko, which is a very popular winery, with no appointment.
Their wine is one of the most difficult to find in Japan.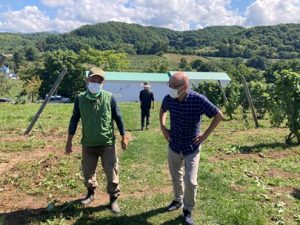 Fortunately, Mr. Takahiko Soga, who is the owner & winemaker, received us well.
It was the first time I had come here in the past two years.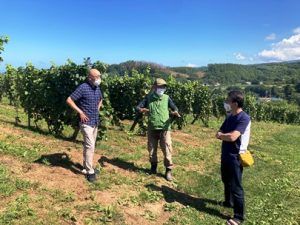 He guided us his Pinot Noir single vineyard.
There was very well organized as usual.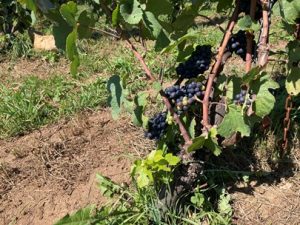 I found out the cultural system was changed.
He is changing the system from "Cordon de Royat" to "Champagne" or "Guyot Double".
The very small rain is good for his vines.
He said he could expect the best vintage wine ever.
Then we moved to "Burgundy", which is a new vineyards in Yoichi.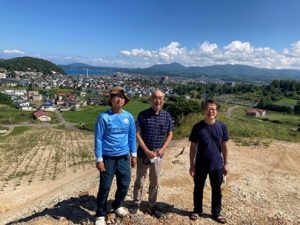 The vineyards were started three years ago by Mr. Matsumura, who is my old client of Cave de Relax.
I have become his sales agent from his first vintage.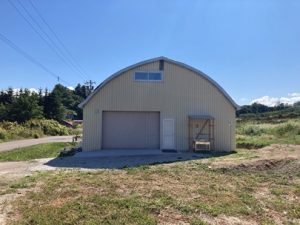 He guided us his new cellar completed last month.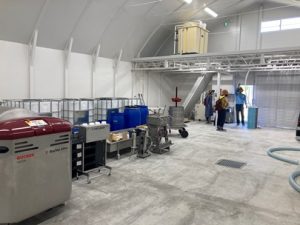 He remodeled an old cherry factory to the wine cellar.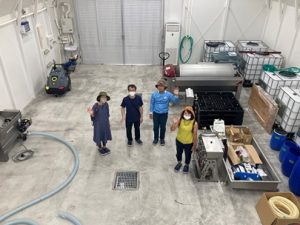 It is a very well organized cellar.
He will start making his wine here is this year.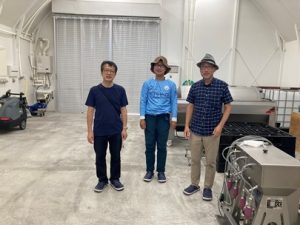 Then he guided us to his vineyards.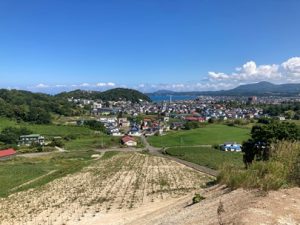 The newest vineyard is located in the steep hillside.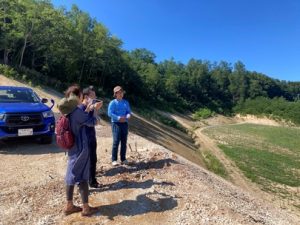 The soil is gravel, which is not often find in Yoichi.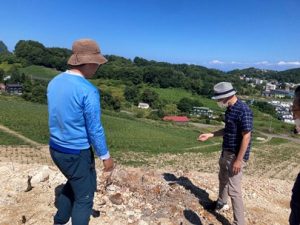 The very small rain was very hard for his young vines.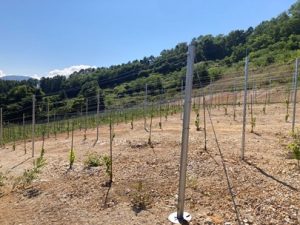 Desperately, he poured water to the young vines many, many times.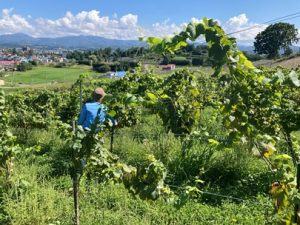 He will harvest the three year-old Pinot Noir this October at the first time.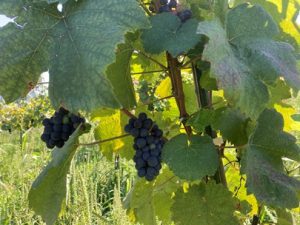 I am very looking forward it.
Thank you very much, Matsumura-san.
Then we visited to NIKI Hills Winery with no appointment.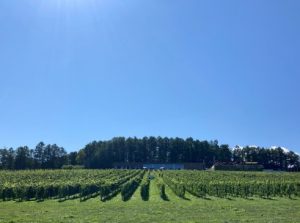 The reservation is necessary to visit here but we made a rush.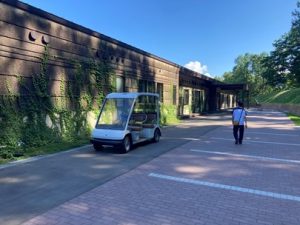 Fortunately, Mr. Maro, who is the chief winemaker, received us well.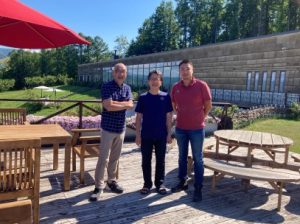 He guided the winery by himself for us.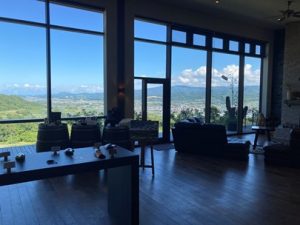 What a gorgeous winery is this!
We were amazed at how beautiful view, how rich facilities and how elegant building.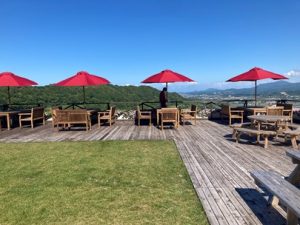 Mr. Maro served a glass of cold his sparkling wine at the terrace.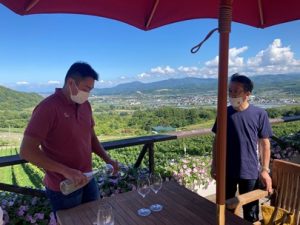 Unfortunately, because I was a driver, I couldn't taste it.
Then he guided us to the vineyard.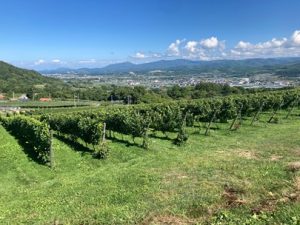 They started planting vines in 2016.
The vineyard has expanded to nine hectare.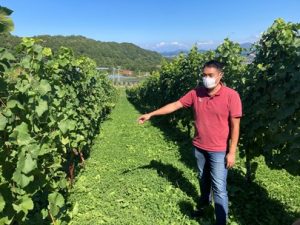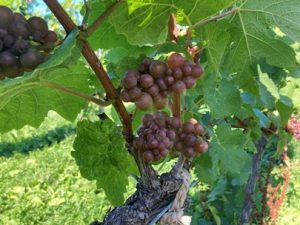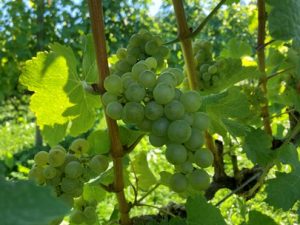 The winery has an excellent restaurant, wineshop and hotel, too.
Then he guided us to the wine cellar.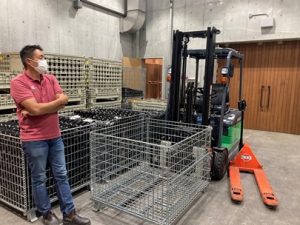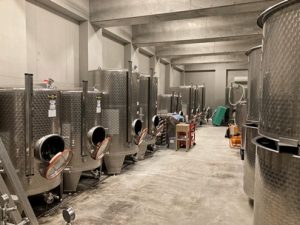 Amazing!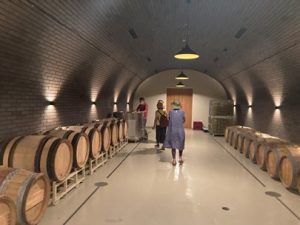 What a great wine cellar is this!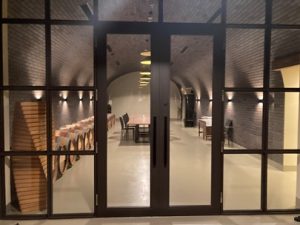 Fortunately, I bought several fine bottles difficult to find at the wineshop.
Thank you so much, Maro-san.
We moved a lot!
Finally, we went to Shakotan Peninsula and stayed there.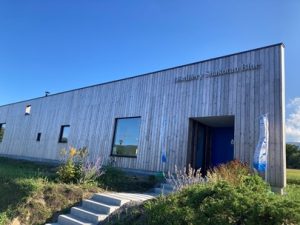 By the way to our hotel, we dropped in Distillery Shakotan Blue, which is a Craft Gin producer, and see the factory.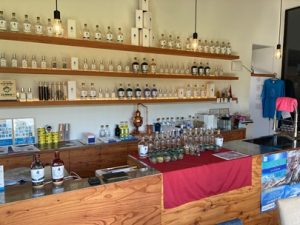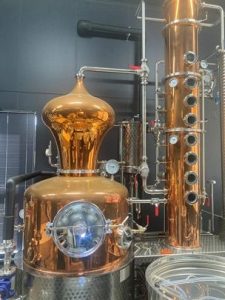 It was a very good factory.
We stayed in Iida, a small restaurant & Hotel in Shakotan Peninsula.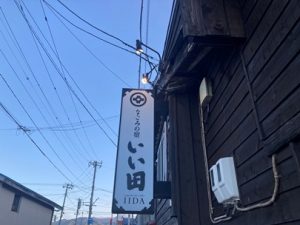 We enjoyed an outstandingly fresh seafood dishes with Relax Wine.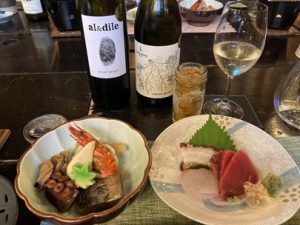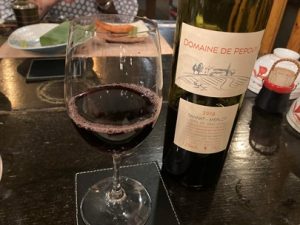 We had a crazy night here!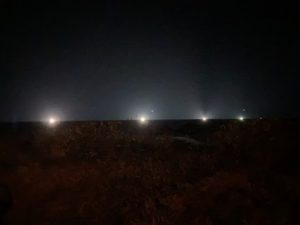 Good Night!