Sep. 3
I ran in the rain.
In this morning, at first, I supposed it rained lightly but it rained hard.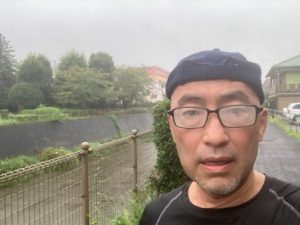 It was difficult to run well.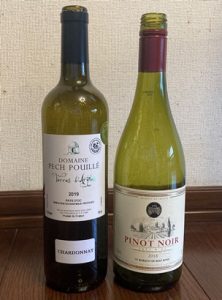 1st Domaine Pech Pouille Chardonnay 2019  1500 yen
It is made from 100% Chardonnay grown in the estate vineyards in Minervois Languedoc by sustainable farming.
It is made by "sur lie" method.
I felt elegant-rich fruits, nice citrus and fine minerals.
The taste is really pure and clean.
The style is very cool even though the south area wine.
Very nice!
2nd Marquis de Beau Rond Pinot Noir 2018  1100 yen
Also, this Pinot Noir is a very cool and elegant style even though it is made in Languedoc.
The vineyards are located near Mediterranean sea.
The sea fog in the morning and evening protects grapes from the heat.
I felt charming red berries, nice acidity and comfortable-light tannin.
The quality is outstanding in this class, I think.