Sep. 2
Suddenly, It has turned very cooler.
I went out of tune.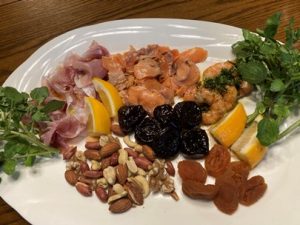 I cooked a part of dinner, the starter plate.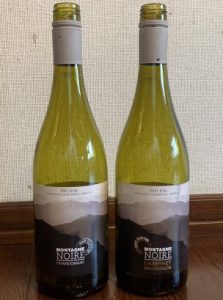 1st Montagne Noir Chardonnay 2019  1100 yen  New arrivals
I produced this private wine for GNR, which is a wine importer.
I have worked for GRN as a consultant since last year.
The wine is made by Foncalieu, a major cooperative winery in Languedoc.
I tried tasting very hard when I chose the wine.
The style is very pure and natural, similar to Marquis de Beau Rond Chardonnay, which is also produced by Foncalieu.
I felt pure fruits, clean acidity and fine minerals.
Additionally, it has fresh citrus aroma and flavor like a grapefruits.
I am sure that it is a very fine white wine.
1st Montagne Noir Cabernet Sauvignon 2019  1100 yen  New arrivals
The red is made from 100% Cabernet Sauvignon grown in Languedoc.
The bottle shape is Burgundy style even though it is a Cabernet Sauvignon.
Because a big letter of "NOIR" is printed the front label, someone will buy this as Pinot Noir by mistake.
It has typical character of Cabernet Sauvignon but the bottle shape is different.
I felt a lot of charming red berries, nice acidity and good tannin.
I am sure that it is a very fine red wine.