Jun. 10
It was a very hot day, too.
Are we already in mid-summer?
I cooked dinner.
Hirame, Aomori Salmon and Citrus Marinade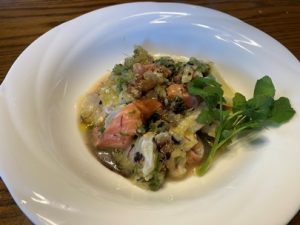 Wagyu Beef Steak with red wine sauce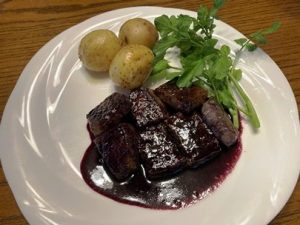 Very good!
1st Andrew Peace Sparkling Chardonnay Pinot Noir NV  1780 yen
It is made from 80% Chardonnay and 20% Pinot Noir grown in the estate vineyards in Swan Hill Victoria Australia.
It is made by Charmat Method.
I felt elegant babbles, rich fruits, nice citrus and good minerals.
It was very, very tasty.
I think this one is far better than some cheap Champagne.
Andrew Peace produces amazingly high cost performance sparkling wine, as well.
2nd Turckheim T Pinot Noir 2015  4200 yen
Because I cooked Wagyu Steak very well, I wanted to taste some very fine Pinot Noir.
Then I opened this fine Alsace Pinot Noir.
It is the red top cuvee of the winery.
The vines of Pinot Noir are grown in the estate vineyards, which used to grow Grand Cru Riesling.
I like the elegant fruits, charming red acidity, seamless tannins, some vanilla & cream nuance and comfortable mouthfeel.
It was a great Pinot Noir.
It was very good for the steak today.
Very good job!