May 31
May will be passing away.
All alcohol beverage services were prohibited in this month.
It was the first experience for everybody in Japan.
I was a true nightmare.
I want to awake.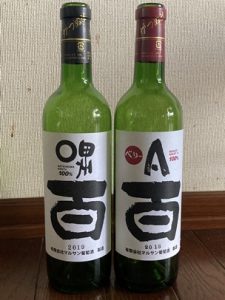 1st Marusan Wine Koshu Hyaku 2019  1540 yen
I always think it is very fine Koshu when I taste this one.
I like the outstandingly nice balance.
I also like the rich fruits, nice acidity and fine minerals.
I think this one is similar to a fighter, who has a real natural stance but very strong.
Why is this so tasty?
It is a truly nice Koshu.
2nd Marusan Wine Hyaku Bailey-A 2018  1430 yen
Almost all winemakers in Japan don't like a sweet aroma and flavor of Muscat Bailey-A.
They try to produce wine without the sweet nuance.
However, Mr. Wakao, who is the owner & winemaker of Marusan Wine, says,
"I want to present the potential of Bailey-A with its sweet nuance."
Well, exactly, I felt some sweet aroma, charming red berries and light touch mouthfeel.
Also, I could found very rich-deep fruits in the glass.
It is a unique but also very fine red wine, I think.
Additionally, the price is too cheap, I always say.