Apr. 28
The buds of Cabernet in my garden start developing.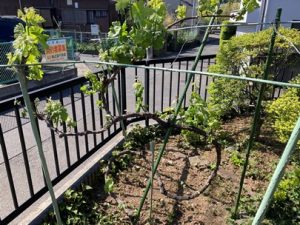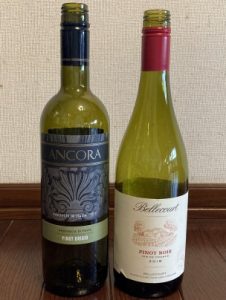 1st Ancora Pinot Grigio 2019  1100 yen
It is made from 100% Pinot Grigio grown in Lombardia Italy.
I call it "Miracle 1000 yen Wine."
I felt a cute aroma like a white petal, really elegant fruits, very nice citrus and minerals.
The quality is far outstanding in this class.
What a nice white wine is this!
2nd Bellecourt Pinot Noir 2018  1375 yen
After I tasted a nice Pinot Grigio, I want to try a nice Pinot Noir.
Then I chose this one.
It is made from 100% Pinot Noir grown in Languedoc.
I felt a lot of red berries, charming acidity and comfortable tannins.
It is a very elegant style Pinot Noir.
It is the longest seller Pinot Noir in Relax Wine.
Tasty!