Apr. 26
No Wine Day
Apr. 27
I organized a Zoom meeting with my business agents in Paris and Hong Kong in early evening.
It was the future scene that you have TV meeting on the computer connecting Tokyo, Paris and Hong Kong a live remote.
After the meeting, I cooked a starter palate.
Very good!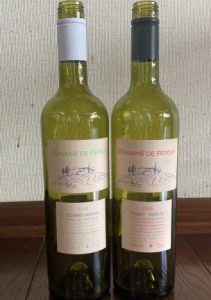 1st Domaine de Pepouy Colombard Sauvignon 2019  1265 yen
It is made from 50% Colombard and 50% Sauvignon Blanc grown in Gascogne South-West France.
All grapes are picked up in mid night during the cool temperature and fermented and matured by "Sur Lie" method.
I felt very good harmony between ripe fruits from Colombard and fine minerals from Sauvignon Blanc.
I like this pure and natural style very much.
2nd Domaine Pepouy Tannat Marlot 2018  1265 yen
The red is made from 50% Tannat and 50% Merlot grown in Gascogne, too.
Tannat is a local grape variety in South-West France, which has rich fruits and solid tannin.
Because the grape is tolerant of rainfall and disease, it is planted in Japan recently.
I felt very good harmony between fine fruits from f Merlot and good tannin from Tannat.
It is a very fine red wine.