Jul. 28
Should I quit a 3 km running every morning.
The temperature was 29℃ at 7:00 am today.
I was so beat-up.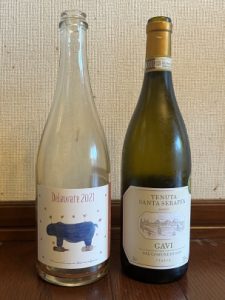 1st Misono Vineyard Delaware 2021  2300 yen
It is an orange Petillant made from 100% Delaware grown in Yoichi Hokkaido by organic method.
I didn't feel some ester-nuance which I had felt before.
I might get used to it?
I felt very nice acidity and fruits.
Also, I felt some tender mouthfeel which non-sulfur wine often has.
I like this one very much.
2nd Santa Seraffa Gavi di Gavi 2020  2000 yen
It is made from 100% Cortese grown in the estate vineyards in central Gavi, Piemonte.
The winery produces only Gavi white wine.
I was impressed in the very fine minerals.
Also, the mouthfeel was very pure and clean.
It is a really good Gavi.
I waked up!!