May 2
No Wine Day
May 3
It was a very fine day.
I cooked two dishes for dinner.
Sashimi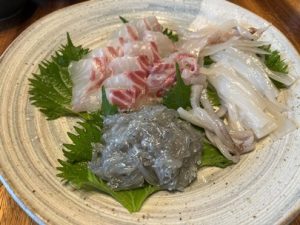 Roast Vegetables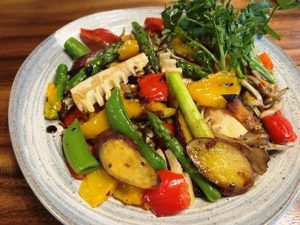 Tonight, we had left over dishes, too.
I cleaned up my refrigerator.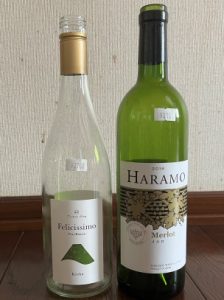 1st Cantina Hiro Felicissimo Biance Koshu 2019  2700 yen
Cantina Hiro is a family vineyards and winery in Makioka Yamanashi established in 2013.
They grow the grapes by sustainable method and produced wine without additives except a little SO2.
It tasted the wine from this winery at the first time.
Oh!  
What a clean style wine is this!
I felt very clean fruits and beautiful acidity.
I felt a rich body and big fruits even though the alcohol degree was only 9%.
It is so tasty.
The taste is different from the standard style of Koshu wine.
I felt very pure fruits like a Ribolla Gialla or Pinot Bianco in North Italy.
It is a new style of Koshu wine.
I want to taste a different wine made in this winery.
2nd Haramo Merlot 2016
It is made from 100% Merlot grown in the estate vineyards of the winery in Yamanashi.
I tasted this top cuvee of the winery at the first time since a long time ago.
I felt red fruits aroma, delicious grape flavor, good cask nuance, well-balanced acidity and soft tannin.
I felt a very elegant taste and flavor.
It is a very fine Japan Merlot.
The back label says they produced only 867 bottles.
I have done one bottle…