Feb. 17
The ume trees began to bloom near my home.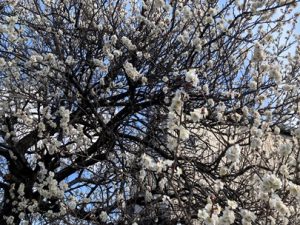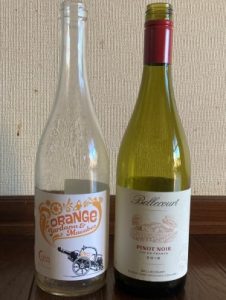 1st Cueva Orange 2018  2980 yen + tax
I bought this one at Liquor Morisawa in Tama Newtown last month.
After I served it to daimajo-sama, she fell in love with this orange wine.
Then I bought it again at the on-line shop of Morisawa-san.
It is made from 60% Tardana and 40% Macabeo macerated for 15 days without sulfur.
I felt strong orange citrus aroma, very good acidity and very natural fruits flavor.
"I love this one very much." daimajo-sama said.
2nd Bellecourt Pinot Noir 2018  1250 yen + tax
It is made from 100% Pinot Noir grown in Languedoc as same as Marquis de Beau Rond Pinot Noir I tasted yesterday.
Bellecourt is "The Relax Wine Original".
It is an upper grade of Marquis de Beau Rond.
The elegant style is similar to Marquis de Beau Rond. 
Well it's aroma is stronger, the fruits are more concentrated and tannin is milder than Marquis de Beau Rond.
I am sure again both of Pinot Noirs are very good.