Aug. 17
I wanted to have a BBQ dinner and bought a griddle.
It was the first BBQ at home in these 20 years.
At first, I didn't remember how to cook it.
Finally, I managed to cook it.
However, the temperature rose up a lot and the room was pervaded by smoke.
I will not have a room BBQ again in summer time.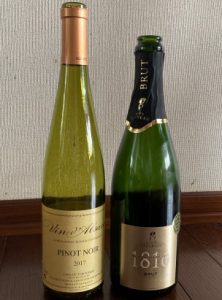 1st Lieubeau Method Traditionnelle "1816" NV  2250 yen + tax
Lieubeau is an old winery established in 1816 in Muscadet Loire.
It is made from 70% Chardonnay and 30% Folle Blanche grown by Terra Vitis method.
I felt crispy babbles, nice acidity and fine minerals.
The style is truly pure and natural.
I am sure again this sparkling wine is really tasty.
2nd Turckheim Pinot Noir 2017  2000 yen + tax
I tasted Pinot Noir, as well.
I felt nice red berries, good acidity, soft tannin and charming mouthfeel.
The style was very pure, cool and natural.
It is the character of Alsace Pinot Noir, which is evolving a lot recently.
Of course, I tasted this one very cold.