Aug. 22
We received a big Typhoon today.
We had unbelievable-heavy rain in the afternoon.
I saw a big tree laid down on the platform at JR Harajuku Station.
Oh My Buddha!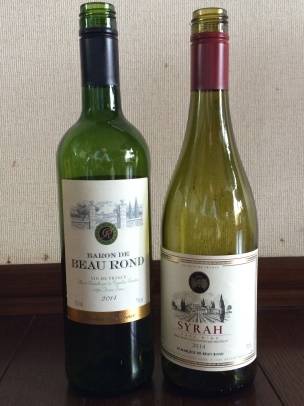 1st Baron de Beau Rond Blanc 2014 800 yen
This Languedoc white wine is one of my most favorite house wines.
I love this very clean fruits and fine minerals.
It is the cheapest Cave de Relax original wine.
That means it has the highest cost performance.
2nd Marquis de Beau Rond Syrah 2014 830 yen
This Syrah is not so popular in Marquis de Beau Rond compared with Cabernet, Merlot or Chardonnay.
However, after I fortunately found this at Izariya in Kochi as their house wine last month, I often try this at my home, too.
I like this spicy red acidity and rich fruits very much.
It was very good for chilly drinking.
Very good!