Jan. 25
The big freeze, which is once a decade the weather forecast said, has come.
I cooked Oden for a dinner today.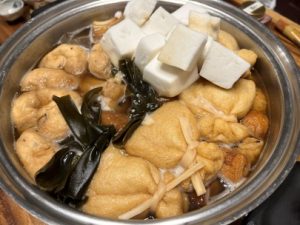 Very good!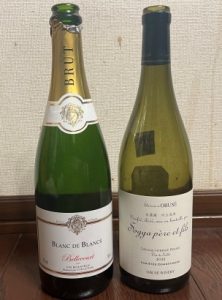 1st Bellecourt Blanc de Blanc NV  1480 yen
I am always not able to decide which wine I should choose for Oden.
Finally, I chose a sparkling wine today.
IT is made from Airen and Maccabeu grown in Languedoc.
I felt mild babbles, clean fruits and charming citrus.
The style is pure and light.
Such simple sparkling wine is good for Oden, I think.
2nd Obuse Winery Sogga Pere et Files Cepage Hybrid Rouge Vin de Table 2021
It is the basic class red wine in the winery.
It is made from mainly Bailey-Alicante, which is a Japanese hybrid grape, grown in the estate vineyards in Nagano.
I felt a lot of red berries with a sharp acidity.
But the mouthfeel was very comfortable.
It was very easy to drink.
The price is outstandingly reasonable.
It was very good for Oden, too.