Jul. 20
I participated in some interview organized by some wine magazine.
The theme was about organic wine.
I talked my dangerous opinion a lot.
I concerned about it a little.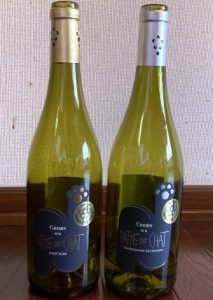 1st Alpha Loire Pate de Chat Chardonnay Sauvignon 2018  1450 yen + tax
It is made from 50% Chardonnay and 50% Sauvignon Blanc grown in Loire by natural farming.
Several years ago, they couldn't get enough white gapes. 
Then the winery decided to blend these two grape varieties.
They surprised that the blend was so nice.
Then they have kept to make the blend.
Certainly, this one is very nice.
I felt pure-rich fruits from Chardonnay and nice acidity from Sauvignon Blanc.
Very tasty!
2nd Alpha Loire Pate de Chat Pinot Noir 2018  1450 yen + tax
It was a very nice Pinot Noir, too.
I felt cool & elegant taste and fine grape essence.
I also felt good black berries and silky tannin.
You can get such good Pinot Noir with only 1500 yen.
Very good!