Apr. 11
I cooked dinner.
I got a very fresh Sekisaba (Mackerel).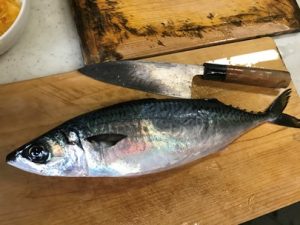 Sekisaba Carpaccio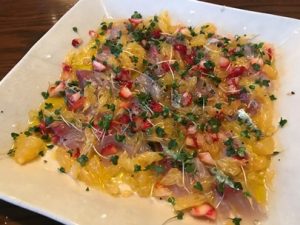 Green Salad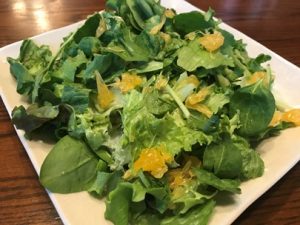 Salmon, Shrimp and Scallop Saute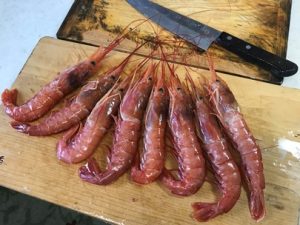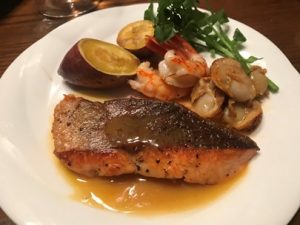 Delicious!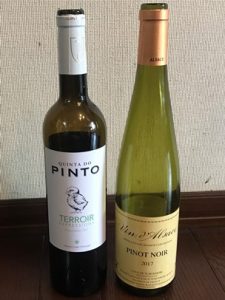 1st Quinta do Pinto Terroir Expressions Branco 2017  1380 yen
It is made from Alinto and Fernao Pires grown in Lisboa Portugal.
It is a super clean style white wine, so tasty!
I like a lot of rich-elegant-cool fruits and very, very fine minerals.
The taste is just my favorite one.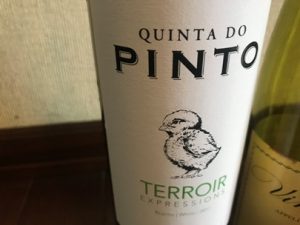 The baby chick on the label is so cute.
But daimajo-sama said, " I don't like the chick because her eyes doesn't smile."
Umm.. I don't think so…
2nd Turckheim Pinot Noir 2017  1800 yen
This Pinot Noir is made in Alsace.
Alsace has very small rainfall in France.
The small rainfall is very good for grape growing,
However, It was too much cold for black grapes before.
But the earth warming has changed the situation recently.
The weather in Alsace becomes very good for Pinot Noir.
The strong-good aroma attacked my nose at first.
Then I felt very charming-elegant red berries.
I like this nice acidity and cool tannin very much.
You can get such fine Pinot Noir with under 2,000 yen.
If you like Burgundy Pinot Noir, I want to recommend this one very much.