Nov. 5
No Wine Day
Nov. 6
I caught a cold again.
I didn't want to have foods and taste wine.
No Wine Day
Nov. 7
I took a day-off and slept all day long.
Then I got better in the evening.
Finally, I wanted to taste wine.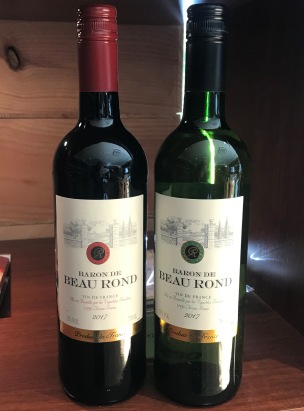 1st Baron de Beau Rond Blanc 2017 750 yen + tax
Because I wanted to taste an easy white wine, I chose this Languedoc wine.
It is made from Marsanne and Grenache Blanc.
The alcohol degree is 11%.
It is very easy to drink.
Tasty…
2nd Baron de Beau Rond Rouge 2017 750 yen + tax
The red is made from Carignan and Grenache.
The alcohol degree is 12%, which is low as Languedoc red wine.
It's not only a light wine but also a rich and elegant wine.
I like this fine after taste.
I recovered a lot by tasting fine wines.